Update 03.12.2019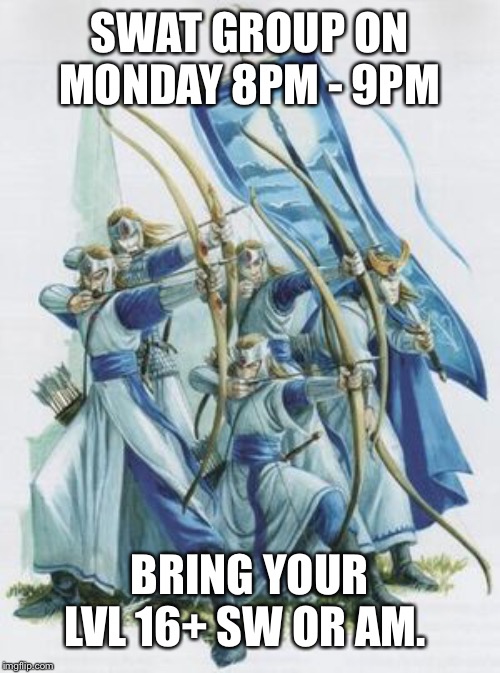 Greetings Asur!
For two weeks on the 9.12 and 16.12 I will run an Elf Hunting Party on Monday.
Time is 8pm till 9pm Altdorftime aka Servertime aka /time.
Classes:
Every Elf class lvl 16+. Focus on Shadowwarriors in Skirmish spec and some Archmages in every spec you like.
I run on a SW in Skirmish Spec, so ranged Knockdown, ranged Snare and ranged Healdebuff is covered.
A second SW Scout specced with the Ranged Silencer "Throat Shot" would be nice.
And if you run a SM or WL you are welcomed of course too to join.
Style:
Similiar to the Dwarven Sniper Squad we lookout for ambush spots and some roaming.
Roleplay:
As the Sniper Squad this is a casual to low roleplay event. Meaning none roleplay expected whatsoever. We gather to kill destros. If you like you can use some macros or what you want.
Discord:
We will use the Bitterstone Discord for communication.
https://discord.gg/srRS6b2
Addons:
Enemy 'Addon or Swift Assist is a must to get Main assists targets.
Some Macros I will build for my SW named Meldiriel.
/say athab nîn cû-dess
//meaning: yes, my bow-maid. This will be the main acknowledge of an Order. Similar to Yes Sir, or Aye.
/say athab
//meaning: yes. Short version.
/say For Ulthuan!
/warcry
//meaning: Main warcry.
Orders:
I will use the following Orders.
And some fluff orders with only roleplay value.
Lyrics:
I will most likely be in the mood for some elven song, or poem. There is no preparation needed by you to made for this.
The Tale of Caledor I. Named the Conqueror. Last Phoenix king of a united elf realm.
Calumel by the sea.
Alarielle the Everqueen.