ATTENTION!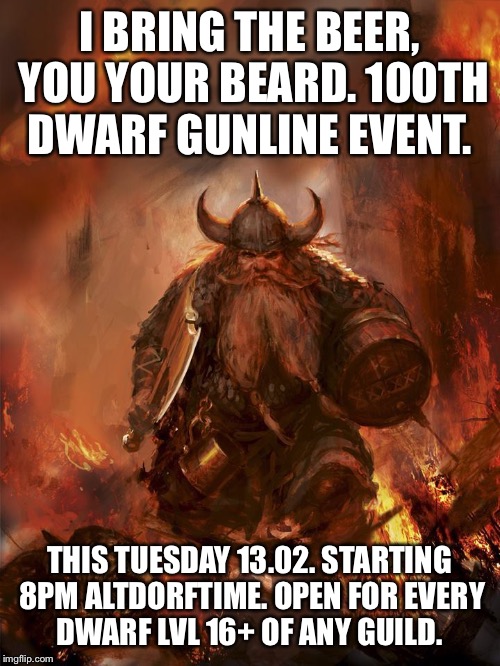 This Tuesday the 13.02.2018 we will host our 100th Dwarf Gunline Event.
Although it is named like that we will build warbands out of every Dwarf Career who wants to participate. So bring your Engi, Runepriest, Slayer and Ironbreaker.
So if you have a Dwarf lvl 16+ you are free to join us. Regardless of Guild, Regardless of Class (dwarven of course), Regardless of anything.
Already several Dwarf and allied guilds have confirmed they will join us on this day. So currently we are planning with two warbands.
One will be on me, Lesti, the second one on Arthur. If we need to found a third one it will be on Gwelthaz.
The Event will start at 8pm Altdorftime, which is the same as /time which is the same as the Time in Paris/Servertime.
And we gather where we allways gather, Kadrin Valley Warcamp. Regardles of which Zone is open.
Discord for coordination and Questions is this one:
https://discord.gg/srRS6b2
If possible please setup beforehand your "Enemy" Addon to find the Warband Leader Dwarf in a sea of dwarfs.
Programm:
Different to the last time there will not be a great lengthy Pre-Fight Programm.
Just a little Speech of the 3rd Bitterstone Leading Officers and then we will go straight into RvR.
See you on the Battlefield.