UPDATE 16.06.2018
Tromm Dawi!
This MONDAY the Bitterstone Thunderers will hold a little Roleplay Event.
Usually in our T4 formations we gather, from up the Warbands and start fighting imediately.
On the T1 Event this will be different.
We start with some Roleplay, marching, marching songs, daily military life and some mini quests around Nordland.
After an hour or so we will go into T1 RvR and fight it out in a gunline Formation.
When:
MONDAY 26.11.2020 7pm
Altdorf Time
. (Open Google and ask it what time it is in Altdorf)
Where:
T1 Empire Nordland Warcamp near the Steam Tank.
What should you bring:
Please come with a dwarven character who is an Engineer or Runepriest. And lease make sure he is capable of fighting in T1 rvr. So your character can be of lvl 1-15.
The Idea is to march around as a full Thunderer Unit. The Runepriests are there that we survive for a while and dont have to run to the warcamp to resupply.
Also this Event is totally open, you dont have to be in any guild and funny names are absolutely allowed.
Also the focus is light Roleplay. If you just want to join for the shooting and dont want to talk, that is totally ok.
Addons:
I higly suggest to get your Swift Assist running or even better the Enemy Addon for focused fire on Targets.
Uniform for engineers:
Also for Engineers. Please use all Rifles and no Pistols. Just for the Appearance and to fullfill a fire barrage all with full rifles.
And please get at least the bluish Hauberk at your main body Armor. The idea is to look like a dwarven unit from the Warhammer Tabletop game. But just not on your table but in RoR.
If you get to lvl 7, you can buy the correct gear from the Merchant in Empire Chapter 3.
I mean this one.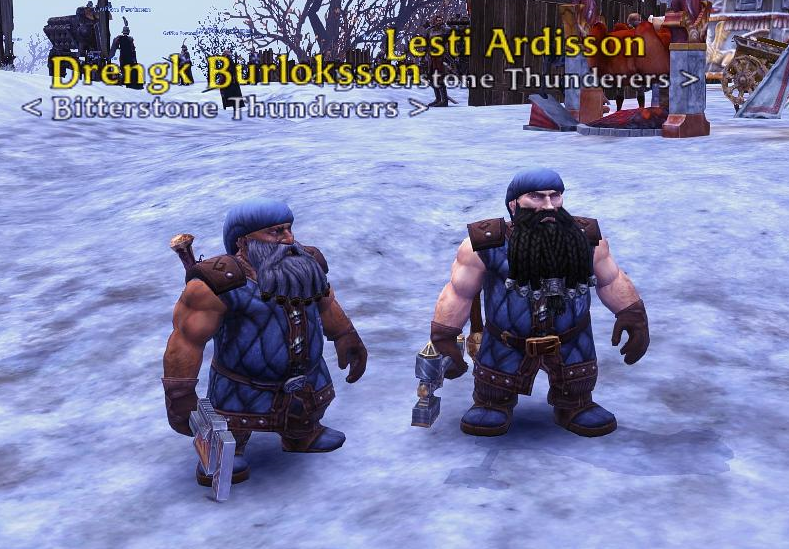 Combat Tactis:
Instead of a static full gunline Movement, we will train the Zulu Style Advancement.
Zulu Style:
Bitterstone Style:
So lads sign in the poll question and get ready for some grobi shootin'!
New Poll 2018