Warning, this comes with some really naff analogies
I've tried ranked a few times before, 3 or 4 now. Once on my Sorc and now this is my 3rd attempt on the WE. I hated it, it made my stomach churn and I would think of any reason not to queue like I really should be sitting safely in IC cultivating some seeds right now... but the buggers got me and i can't help myself. It started off definetly on the sc block list, then slowly I would include it with the other Sc's so maybe it would happen by accident and now I block most of the others apart from Ranked.
Experience.. at the beginning i found it overwhemingly intense and just couldn't make sense of the action, let alone what I should be doing. It's like your very first driving lesson when you amble off down the road at 15mph but that feels like you are going at the speed of a jet fighter, with the added bonus that if you had a bad driving lesson your instructor would end it by saying "Your sh*t". Actually, to be fair i have yet to come across any toxicity at all. Then after a bit of experience everything slows down and you spend less time worrying about how to drive the car and more what's going on around you. So my advice is if you tried it once or twice,like I did, and said not for you maybe say to yourself I'll give it 10 goes and then see, or maybe i''ll get my first triumphant event item. In the end this is pre-season 2 so nothing to lose.
I think as a game mode its useful, not just in Sc's but generally. For example, ok its 6v6 but Warbands as just 4 * parties of 6 so understanding the basics in ranked spills out to other modes in how to react and the setup you know is correct,
Maybe as a suggestion to the Dev's is there any reason why a more basic form of ranked cannot be added to tier 1, 16-39.? Those tiers you learn your rvr trade and maybe it may help bring more players into the tier 4 ranked if they have become comfortable with it. Its really just about getting used to the intensity of the game play above all else i think. Basically just a 6v6 with the same match making of ranked just no rewards (or maybe a few more emblems) or MMR.
Lastly, obviously in the recent patch higher MMR player can elect to join the scuff league if they so wish to be MMR assissinated
. I wasn't sure about that but I've found it ok, certainly this week. I still very much have my training wheels on at the moment so having a bit of high-end backup doesn't hurt and it hasen't really changed the experience that much one way or the other as far as I tell. Although being the below 1300 in a group of + 1600 players feels a bit like this: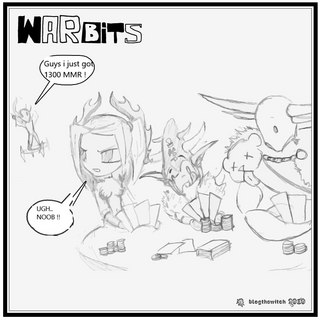 Cheers