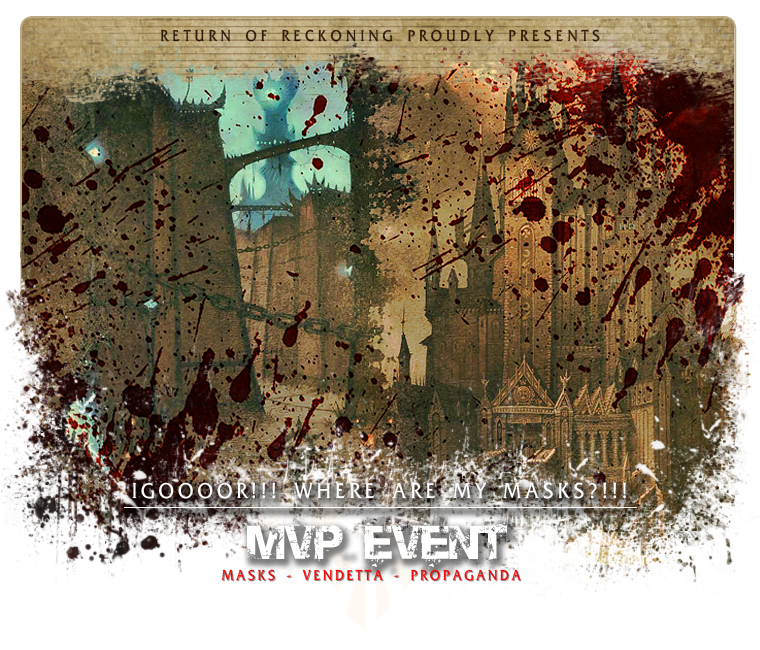 PREAMBLE



This event takes place, right after the recent event, involving Bawon Sanmdi and the discovery of ancient ruins of Black Crag Keep.
Both faction are struggling to gain the upper hand and their respective leaders are looking for each possible advantage to give this long war a favorable direction. But sometimes, solutions come as surprises...
INTRODUCTION
Land of the dead.
Another place, another time.
Altdorf.
Inevitable City.
MISSIONS
Masks-Vendetta-Propaganda also called Most Valuable Players is a multiple purpose event.
MASKS
> City public quest
Some monsters have stolen Bawon's masks to enter your city. Fight them and collect the masks to prepare your little vendetta.
> City quests
Some suspicious persons introduced Bawon masks in the city, spreading rumors against your faction, corrupting inhabitants and making them mad. Stop them all before they put fire to your city.
VENDETTA
> City scenarios
Bawon's mask gives you the possibility to hurt your enemies in the heart. Equiping a mask gives you the ability to tag for city scenarios. Mark your enemies, kill them and collect rewards.
How to join the city scenarios: You need to be masked to queue the scenario (doesn't work with Halloween mask, do the quest to get your first mask)
Participate in both Altdorf Warquarter and The Undercroft scenario while wearing a mask (can't join those scenario without being masked) to receive your MVP token.
PROPAGANDA
> Faction event
Share the story of Dead Kings being assassinated in Black Crag Keep. Revive your faction by spreading these news.
When you've collected 100 Vendetta secret list Item (in scenarios), talk to Masked Citizen in any City scenario. Learn the King's Tale and share it.
In any city scenario, Drop the Lord's Tales and Share it. To share the tale, simply use the Granted Ability on a friendly player.
MOST VALUABLE PLAYERS
> A faction needs their heroes and their martyrs. Participating in this suicide mission in enemy capital (Vendetta) will probably give you the possibility to be this Hero. Perhaps your sacrifice will be commemorated with a statue in your capital city.
Every 100 point in City Scenario you get a MVP token. The best player of each class will have their statue erected in his capital when event ends. Classement will be updated daily on the forum thread.
NPC
Altdorf: The Live Event Herald for Order is named Wild Eyed Guiltseeker and is located at (26776, 30868) by the Flight Master in Altdorf.
Inevitable City: The Live Event Herald for Destruction is named Twisted Slaughterhag and is located at (29455, 32368) by the Flight Master in the Inevitable City.
MERCHANTS
Goaf Birdsong - same as Halloween Event.